Locally Owned and Operated Pest Control in Cincinnati, Ohio
A.G. Pest Control is a fully licensed and insured pest control company servicing Cincinnati and the surrounding areas. Angela Moniaci has 20 years of experience in the pest control industry and understands the specific pest challenges faced by Cincinnati residents. At A.G Pest, we take pride in serving our community and work diligently to exceed our customers' expectations by delivering exceptional service.
Whether you're dealing with a flea infestation, bed bugs, or any other unwanted pests, we have the knowledge and resources to eliminate them from your home and property effectively. Our services are designed to identify and address potential pest problems before they escalate. By implementing proactive techniques, you can safeguard your property against infestations to save you time and money.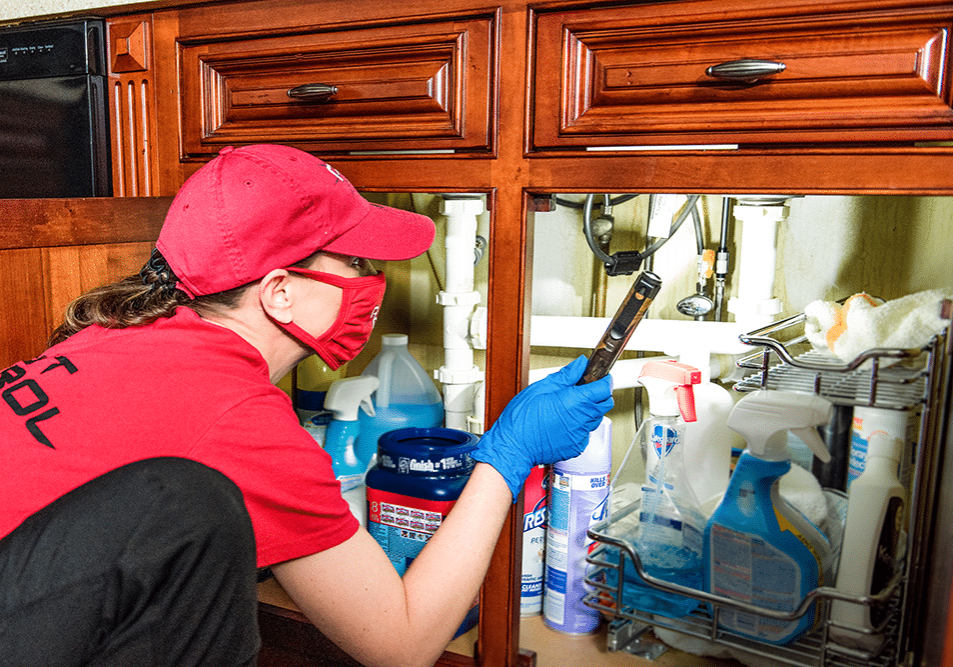 Here at A.G. Pest Control, we provide convenient professional service for your complete satisfaction. We guarantee all our work and we bring years of experience to each job so you can be sure that your pest problem will be taken care of quickly & efficiently. We take pride in our business and like to know that all our customers are 100% satisfied.
Rachel Libecap
2023-08-24
Angie was excellent! I reached out to her because I have something in my house and I wasn't sure what it was. I was driving behind her today and seen her sign and gave her a call. She said she would come out for a free estimate and did. She brought it to my attention that I had trap boxes outside to help with rodents, and they were empty. She was able to refill my traps for-$25 and also gave me other information on how to keep an eye out for rodents. She was very kind and informative. If you need a pest control, this is your girl. Angie won't dissappoint you! She also gave me an extra tool to be able to access the traps myself and refill them myself next time. Thank you for your time and hard work!
I can not speak highly enough of Ang and her company! She serviced me and my moms houses and there is not a single bad thing I could say. The most down to earth caring person you will meet and she will take care of you leaving you reassured your problem will be taken care of! From coming out in the middle of the night to being there right when you need her, I will never use another company we absolutely love her!!
Sharnoosh Shafie
2023-08-08
We recently dealt with a wasp issue where they were entering our home by going up through the exterior siding of our house. I immediately looked up pest control companies and came across AG Pest due to the 5 star rating and Angie's name present in all customer reviews. I decided to give them a call and spoke directly with Angie, who came out within an hour of me calling to treat the area. Over the course of a few weeks, Angie continued to make herself available to come out and treat the areas numerous times until the wasps were completely gone. Her impeccable communication, knowledge and continued check ins made this whole process seamless. I'm grateful for Angie and will definitely be using her services again if needed, but hopefully not!
We were desperate to have someone come out quickly, as my partner is allergic to wasps and I happened across a wasp nest and got stung by like twenty yesterday. I called AG Pest Control and she came out the same day that I called her. She was kind, courteous, and professional! I am so thankful for her help at a time where we were afraid to go out and water our garden!
Lauren Hillner
2023-07-25
AMAZING! Angela is so knowledgeable, caring, and kind. As new homeowners, she was able to solve our problem AND give us advice about other issues. What a wonderful person to work with. I will ONLY be calling her for any future pest issues.
After calling a local exterminator for an estimate on my ANT issue, they wanted to give it to me over the phone. I called Angela, she said: "someone just cancelled, I'll be there in an hour". After reviewing my Ant problem, she treated both the inside/outside of my home. Needless to say, NO MORE ANTS!!! Very Professional, extremely knowledgeable, and truly Passionate about her work! I highly Recommend!!!
Listen, I NEVER give any company a 5⭐️ rating -- however, my first one goes to Angie at AG Pest Control! I came across a hive in my tree on Monday night and tonight those little buggers are gone!! I contacted AG Pest Control and Angie came out and removed my little unwanted friends hive and all. She answered all my questions and explained everything she was doing in the process. Very professional, polite and cost effective. I'll definitely call on Angie again for any future bugs issues we may have. Thank you so much!!
Angie came the same day I called and took care of a dangerous bald faced hornet nest in the side yard. She found a yellow jacket hive in a nearby tree and took care of the bees while she was there. She did a great job! Thanks